Knit a sweater with me . . .
Hi . . . My name is Cheryl Brunette and if you want to learn how to knit a sweater you've come to the right place. The goal of this website is to teach you how to make a sweater using the simple, visual, Sweater 101 method with a step-by-step video workshop. The workshop and pattern are free.
Together we will knit a child's size 1 sweater using any worsted weight yarn you have in your stash or would like to try out. You will make this sweater using your yarn and favorite needles and you will fill in the pattern using your personal gauge and it will end up the same size and shape as mine!
Here's the sweater we're going to make. It requires enough skills to keep you interested and learning, but it's simple and small enough to complete in a week or less depending on how much knitting time you get.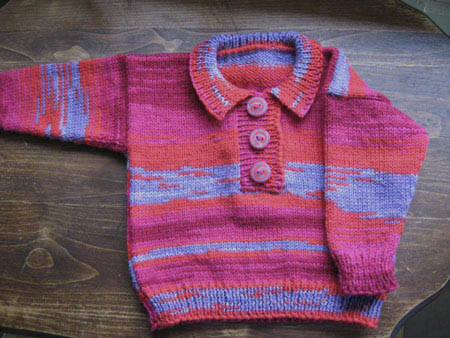 If you make this sweater step-by-step with me, you will never again look at a sweater pattern in the same way. You will understand it better and be able to adapt it to your gauge and yarn.
My approach is not the only way to make a sweater, but it's simple and it works. Between Sweater 101 and classes I've taught thousands of people how to make sweaters that they are proud to wear and give as gifts. And I can teach you. I promise. Ask some of my students . . .