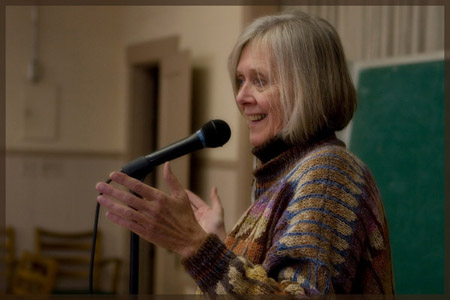 My name is Cheryl Brunette and I help knitters be brave and happy. I've been doing it for decades. Please join my knitting tribe, troop, troupe, group, gang . . . gaggle of gals and guys who knit . . . by subscribing to my occasional newsy email. WHEN YOU SIGN UP . . .
You'll get an email asking you to confirm that it was really you who signed up and not your brother-in-law whose lame concept of wit is to sign you up for things you hate. (Though it's hard to hate knitting. Golf, however, is different. A person can hate golf.)
Somewhere between once a week and once every few months you'll get In the Loop

, a

n email with articles, YouTube news, extra knitting tips, random yarny ideas, special offers, an occasional story and maybe my locally famous "Blackberry Cobbler for the Potluck" recipe which has nothing to do with knitting, but it's really good.
You will help me shape new programming and tools. I want to know your most burning knitting questions, your most heartbreaking yarns, your most tangled messes.
I will not share your email address with anyone else. Period.
~So do you want to be in the loop? It's FREE. Or do you already know every smartypants thing there is to know about knitting?
" . . . Whenever I see one of your videos or receive an email, it is like hearing from a friend from home : – ) Best regards, Deborah"